ref : http://www.gizmodo.com/
The Most Incredible Knife
http://www.outdoorlife.com/outdoor/phot … 10,00.html
Wenger wants you to do one thing: throw out your old knives. Actually, it wants you to do several things: throw out your bike tools, your toiletries, your laser pointer and so on, because you can find all of these instruments in a huge Swiss Army knife, which includes every tool the company makes. Wenger is calling the contraption "Giant Knife Version 1.0." It debuted with all 85 features and can perform hundreds of functions.
Who doesn't need a cigar cutter next to a bicycle chain rivet setter next to a golf divot repair tool? Wenger is on to something with this everyman's gadget. It wouldn't be a knife, though, without a blade, so Wenger put seven in the line-up. And it wouldn't be Swiss Army unless it came with tweezers and a toothpick. (They're included, too.)
Here are all 85 tools included in Giant Knife, Version 1.0:
1. 2.5" 60% Serrated locking blade
2. Nail file, nail cleaner
3. Corkscrew
4. Adjustable pliers with wire crimper and cutter
5. Removable screwdriver bit adapter
6. 2.5" Blade for Official World Scout Knife
7. Spring-loaded, locking needle-nose pliers with wire cutter
8. Removable screwdriver bit holder
9. Phillips head screwdriver bit 0
10. Phillips head screwdriver bit 1
11. Phillips head screwdriver bit 2
12. Flat head screwdriver bit 0.5 mm x 3.5 mm
13. Flat head screwdriver bit 0.6 mm x 4.0 mm
14. Flat head screwdriver bit 1.0 mm x 6.5 mm
15. Magnetized recessed bit holder
16. Double-cut wood saw with ruler (inch & cm)
17. Bike chain rivet setter, removable 5m allen wrench, screwdriver for slotted and Phillips head screws
18. Removable tool for adjusting bike spokes, 10m hexagonal key for nuts
19. Removable 4mm curved allen wrench with Phillips head screwdriver
20. Removable 10mm hexagonal key
21. Patented locking Phillips head screwdriver
22. Universal wrench
23. Laser pointer with 300 ft. range
24. 1.65" Clip point utility blade
25. Metal saw, metal file
26. 4 mm allen wrench
27. 2.5" blade
28. Fine metal file with precision screwdriver
29. Double-cut wood saw
30. Cupped cigar cutter with double-honed edges
31. 12/20-Gauge choke tube tool
32. Watch caseback opening tool
33. Snap shackle
34. Telescopic pointer
35. Compass, straight edge, ruler (in./cm)
36. Mineral crystal magnifier with precision screwdriver
37. 2.4" Springless scissors with serrated, self-sharpening design
38. Shortix key
39. Flashlight
40. Fish scaler, hook disgorger, line guide
41. Micro tool holder
42. Micro tool adapter
43. Micro scraper-straight
44. Reamer
45. Fine fork for watch spring bars
46. Pin punch 1.2 mm
47. Pin punch .8 mm
48. Round needle file
49. Removable tool holder with expandable receptacle
50. Removable tool holder
51. Multi-purpose screwdriver
52. Flat Phillips head screwdriver
53. Flat head screwdriver bit 0.5 mm x 3.5 mm
54. Spring loaded, locking flat nose nose-pliers with wire cutter
55. Phillips head screwdriver bit 0
56. Phillips head screwdriver bit 1
57. Phillips head screwdriver bit 2
58. Flat head screwdriver bit 0.5 mm x 3.5 mm
59. Flat head screwdriver bit 0.6 mm x 4.0 mm
60. Flat head screwdriver bit 1.0 mm x 6.5 mm
61. Can opener
62. Phillips head screwdriver
63. 2.5" Clip point blade
64. Golf club face cleaner
65. 2.4" Round tip blade
66. Patented locking screwdriver, cap lifter, can opener
67. Golf shoe spike wrench
68. Golf divot repair tool
69. Micro straight-curved
70. Special tool holder
71. Phillips head screwdriver 1.5mm
72. Screwdriver 1.2 mm
73. Screwdriver .8 mm
74. Mineral crystal magnifier, fork for watch spring bars, small ruler
75. Removable screwdriver bit holder
76. Magnetized recessed bit holder
77. Tire tread gauge
78. Reamer/awl
79. Patented locking screwdriver, cap lifter, wire stripper
80. Special Key
81. Toothpick
82. Tweezers
83. Adapter
84. Key ring
85. Second key ring
Note : I called it "undoubtfully non sense tool"
Safety first for carry-on Dells
http://www.smh.com.au/news/biztech/safe … 01607.html
Qantas is issuing an advisory to all passengers on its flights on the safe use of Dell notebooks following the recall of 4.1 million batteries announced by the PC manufacturer last week.
The airline said that although passengers would be allowed to carry their Dells either as checked or cabin baggage, they could only use them on battery power or through the aircraft power supply available in some first and business class cabins once they have first removed the batteries from the unit.
Cabin crew will be advising passengers of the measures which apply to all Dell laptops said a Qantas spokeswoman.
However not all airports were following these procedures this week. One passenger who flew out of Canberra on a Qantas flight on Monday reported that he and his colleagues had encountered security personnel removing the batteries from all Dell computers, and taping up the contact points on the battery.
"They did stopped me at the security gate where I was told I couldn't use my Dell laptop on the plane. I told them it wasn't one of the affected units but they said all Dell batteries had to be taped according to an agreement between Dell and Qantas," said Mitch Denny, a technology consultant, who frequently travels for business.
Dell notebooks are a very popular choice for many corporations, and Mr Denny said he had felt a little "penalised" by his choice of laptop.
The Qantas spokeswoman said she believed the security measures used in Canberra had since been relaxed, and that Dell users would asked simply be asked to identify themselves to cabin crew on all flights via a PA message. They would then be advised individually on the new usage guidelines, she said.
An official notice outlining these guidelines was received by the corporate travel department in one large company, however the airline's spokeswoman said she was unable to verify that Qantas was the source of the advisory .
The airline has not indicated how long the measures would be in place, but the spokeswoman said: "We are closely monitoring situation as Dells's retrofit program progresses."
A Dell spokesman said Qantas' advice regarding use of notebooks in-flight was consistent with the advice Dell is giving customers, which was that customers could use their system by removing the battery and using the A/C adapter provided with their system.
"The safety of our customers comes first and our direct relationships with customers mean we must always do the right thing for them when it comes to service and product support. We are working closely with with Qantas," he said.
Note : I'm using Fujitsu
Maxtor Shared Storage II Hands On
http://crunchgear.com/2006/08/23/maxtor … -hands-on/
If you had told me a year ago that I'd have a terabyte of data hanging on my home network, I'd have probably laughed. First off, who needs 1 TB?! That's just silly. And secondly, there's nothing out there that can make that block of storage usable. After all, share drives are wonky and web-based applications are junk right? Well, I just got a 1 TB block of usable storage and I'm suprisingly thrilled.
First things first: the Maxtor software works on both PCs and Macs, which knocked out 95% of my bitching right off. Installation couldn't be simpler: Plug in the power cable, plug in the Ethernet cable and sit it in a dark corner somewhere. But if it must remain visible, the box itself is fairly attractive with plastic cladding and a brushed metal face with inset RAZR-eqsue buttons. There is a main power switch on the back and the drive is UPnP compatible, so it essentially shows up whenever it's plugged in.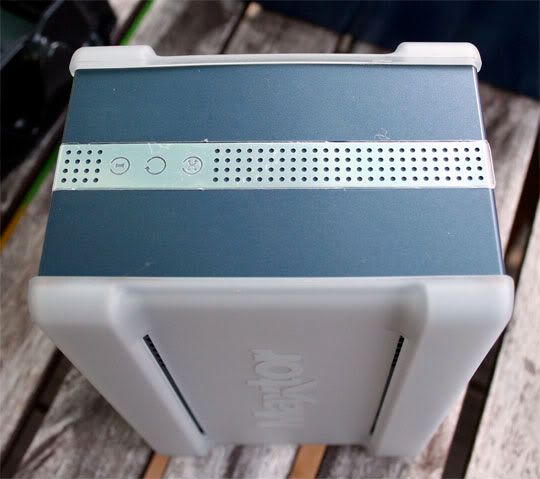 The install program is seamless on OS X and Windows XP, although it did require a restart on both. It has two USB ports on the back for sharing printers and external storage and is fairly simple to install and run. The install system adds Maxtor EasyManage to your desktop and then allows you to create virtual drives that are formated for either Windows or OS X and create backup plans.
Because the system is so streamlined, it's actually quite hard to assess how good a job this thing is doing. In initial tests, we had little trouble running my iTunes catalog from the remote drive, even over an 802.11g network connection through my wood floors. This device is definitely a valuable part of a home or small office network and at $899.95. At less than $1 per gig, this is a great option for any anguish free backup plan.
This entry was posted on Wednesday, August 23rd, 2006 at 1:21 pm and is filed under News, Best Bytes. You can follow any responses to this entry through the RSS 2.0 feed. You can leave a response, or trackback from your own site.